Refreshed Facilities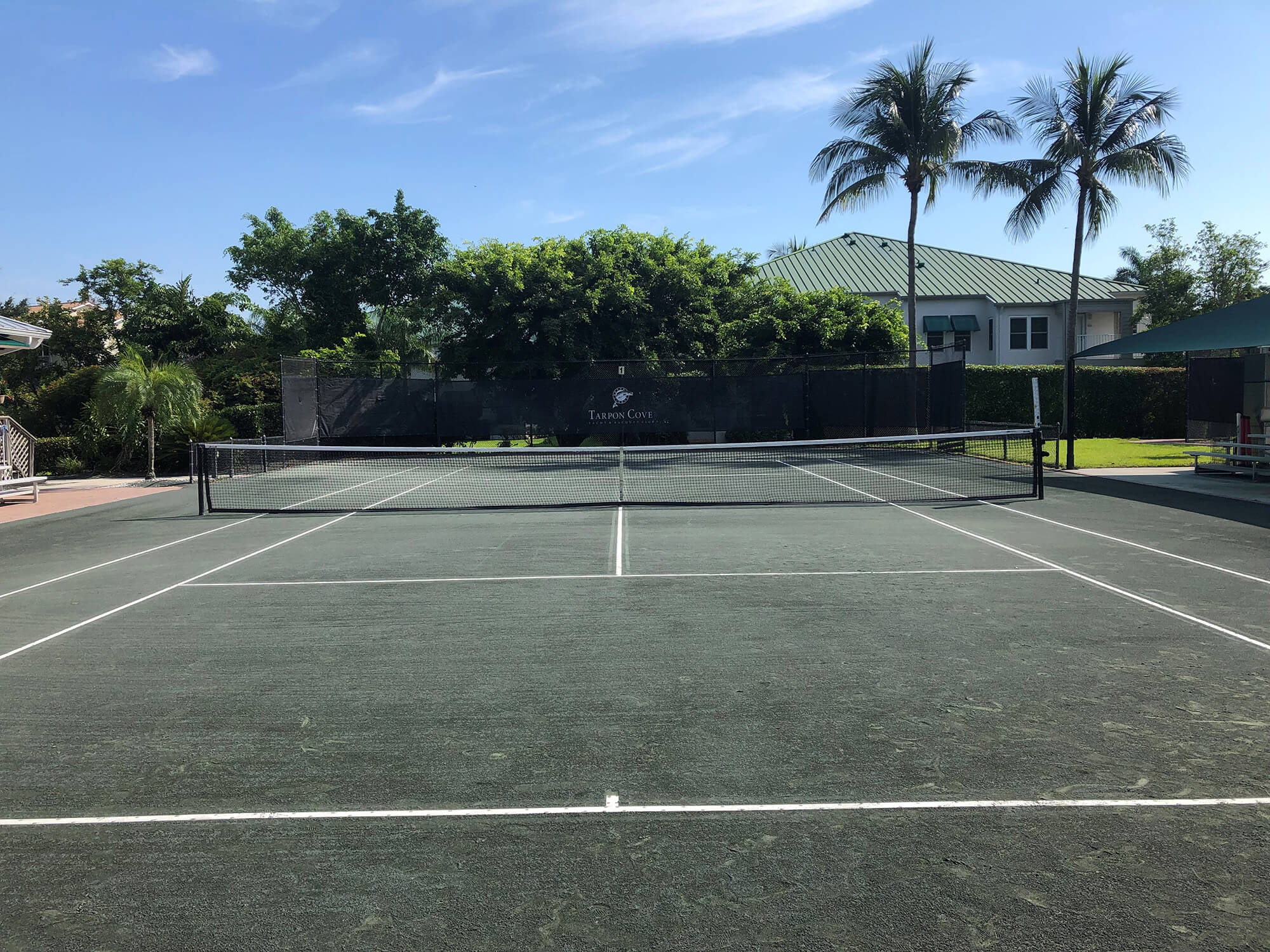 If you're a tennis enthusiast looking for a place to practice your game, look no further than Tarpon Cove Yacht & Racquet Club. The club recently underwent a major renovation of its tennis facilities, with upgrades that will benefit players of all skill levels. Completed in 2023, the upgrades include resurfacing all six tennis courts, upgrading the irrigation system, replacing the court drainage system, refreshing the landscaping and foliage, and adding new accessories around the courts.
One of the most significant upgrades to the tennis facilities at Tarpon Cove is the resurfacing of all six tennis courts. The new surface provides a consistent and reliable playing experience, with improved grip and cushioning. The resurfacing also gives the courts a fresh, modern look that's sure to impress players and visitors alike.
In addition to the resurfacing, the club also upgraded the irrigation system to a new sub-surface permeable system. This new system provides more efficient watering of the courts, with less runoff and waste. This means that the courts stay in better condition, with less need for maintenance and repairs.
The court drainage system was also replaced as part of the renovation. This new system ensures that water is quickly and effectively drained from the courts, preventing puddles and ensuring that the playing surface is dry and safe.
The landscaping and foliage around the courts were also refreshed, with new plants, trees, and flowers added to the area. This not only enhances the visual appeal of the courts, but also helps to create a more pleasant and relaxing atmosphere for players and visitors.
The canopies and tarps around the courts were also replaced, providing better protection from the sun and rain. These new canopies and tarps are more durable and long-lasting, ensuring that players can enjoy their game in comfort, no matter what the weather conditions.
All-new walkway pavers were also added around the tennis courts, providing a safe and attractive walking surface for players and visitors. The new pavers are slip-resistant and easy to maintain, and they add a touch of elegance to the area.
Finally, the parking lot lighting was upgraded to provide better visibility and safety for players and visitors arriving and leaving the courts. This new lighting is energy-efficient and long-lasting, providing reliable illumination for years to come.
In addition to all of these upgrades, the club also added new accessories around the courts. These include new benches, trash cans, and water fountains, providing players with everything they need for a comfortable and enjoyable tennis experience.